Buying Muay Thai Equipment and Gear from Toronto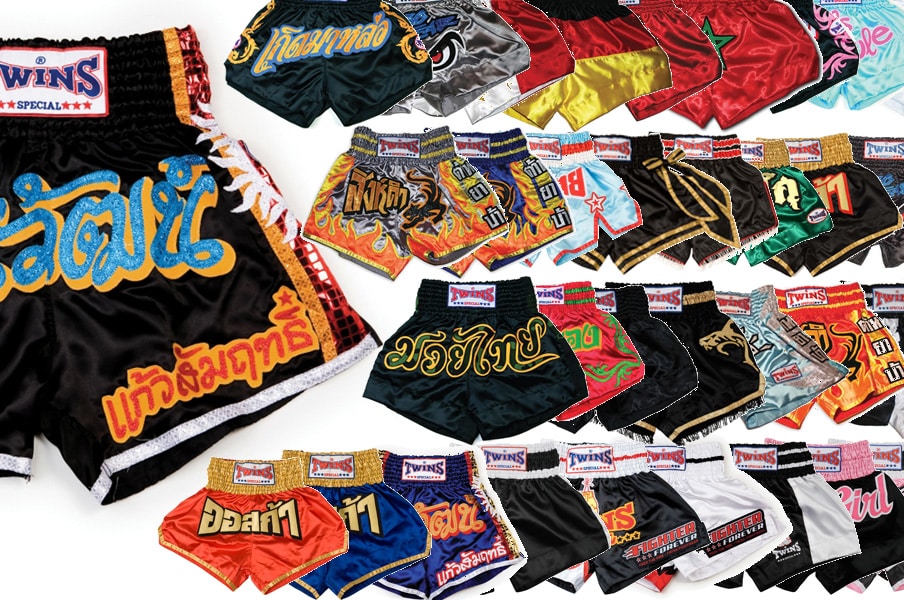 So you've taken up Muay Thai, have at it for a couple of months, and are getting hooked. Maybe you've seen the more experienced students and fighters and see all their equipment – Muay Thai Shorts, shinguards, mouthguards, cups, etc. and wonder where to get it all from? It's not like you can stroll into a department store and go to the Muay Thai section (hint: there isn't one).
This post is all about how to get all your gear when you're based in Toronto, including local tips and online shopping suggestions!
Essential Equipment
Gloves
Our custom Lotus gloves from Kimurawear are an excellent starter glove. In 16oz (14oz for smaller women), they are suitable for sparring as well. Moving up to a higher end, genuine Thai brand, most people like Twins, Fairtex, or Top King gloves. Having a smaller size (12oz) for padwork, and a larger size (16oz) for sparring is sensible so you have different gloves for different purposes.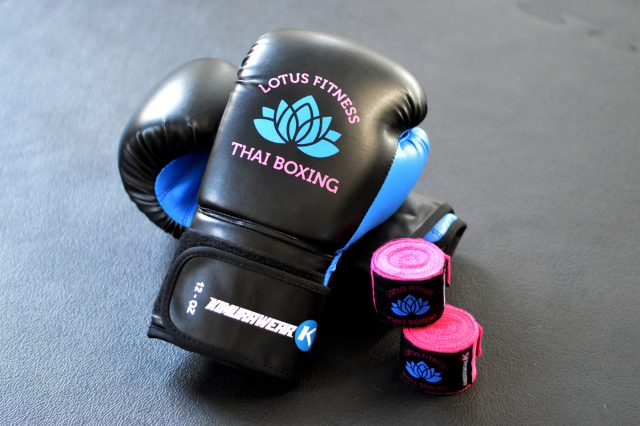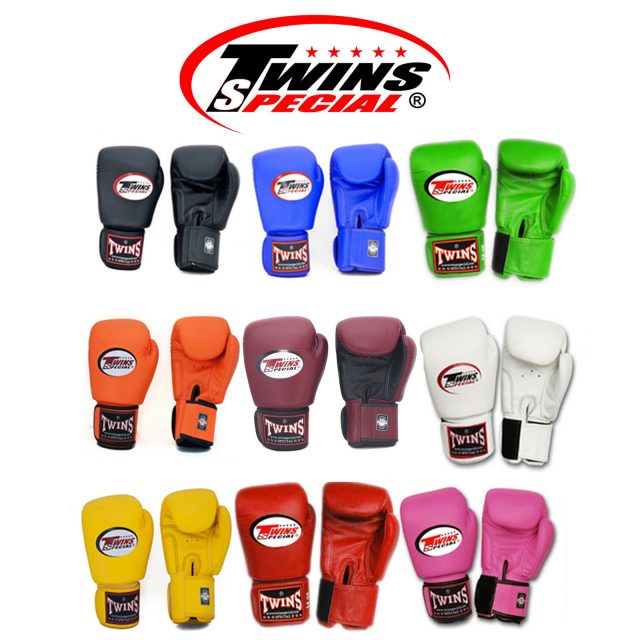 Muay Thai Shorts
Look good, feel good, fight good! The stretchy waistband and extra wide cuts of Muay Thai shorts make knees, teeps, and swing kicks easier. Thai shorts are inexpensive to buy in Thailand, so if you know anyone travelling there — tell them to stock up for you! Keep in mind, Thai sizing is different, for example, "Large" thai shorts are suitable for people with a 32″ inseam, so size up. Online, these shorts can be ordered from Thailand for really cheap, but shipping increases the total to-door cost.
Domestically, many people love the cuts, designs, and look of shorts from InFightStyle.
We also love the look and feel of the Kimurawear shorts, including our own custom designed black and white shorts: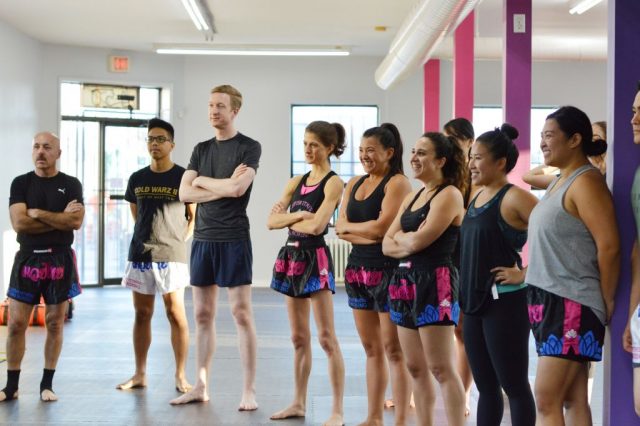 Mouth Guards
Cheap "boil and bite" mouthguards are fine when you are starting. Your local Sport Chek has boil and bite mouthguards from the $10-$20 range.
After that, we strongly recommend saving for a custom-made mouthguard. Locally, we have Smartguards hold clinics to do custom impressions of your mouth and make a custom mouthguard (design included). These custom mouthguards are far superior for fit and safety than boil and bites.
Shin Guards
For sparring, it's best to get full-sized leather or synthetic shinguards to keep your shins (and your training partners) safe.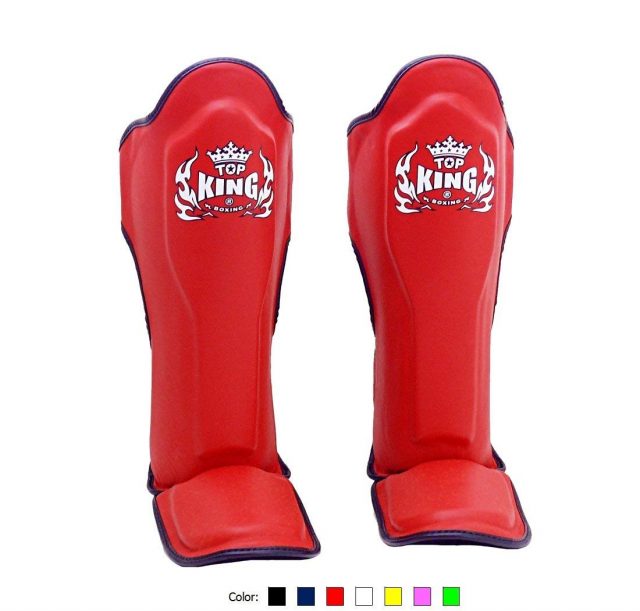 Knee Pads
To protect yourself from "knee on knee" clashes during sparring, really helps. Volleyball Knee Pads from Sport Chek can be purchased for around $25.
Groin Protector
Plastic "jock cups" used in most sports (brands like Shock Doctor) can be fine to start, but most serious practitioners will get a traditional Thai Steel Cup or specifically engineered cups like the Lo-Bloo.
Local Shops:
Warriors Martial Arts Supply – 647 Yonge Street – http://thewarrior.ca
For downtown Toronto, this is pretty much the only local game in town that carries genuine Thai brands like Fairtex or Yokkao. If you just need one or two items and want to buy from a local store in Toronto, Warriors is a good option. Their prices are slightly on the high end, but you pay for the convenience.
In Leslieville, Diamond Muay Thai carries InFightStyle brand shorts and gear.
"Kings of Custom" Kimurawear supplies us with our Lotus branded gloves, wraps, and shorts. They have the full range of other equipment as well, such as shinguards, head gear, pads, etc.
In Pickering, this store stocks great quality equipment and has very competitive pricing and genuine Thai Brands like Fairtex, Twins, etc. They offer free shipping on orders over $99. If you find yourself in the East end of the GTA, it would be worth paying a visit!
Online:
Amazon.ca is worth scouring for both genuine Thai brand equipment (Twins, Fairtex, etc.) Some equipment is actually 1-day ship/eligible for Amazon Prime.
Muaythaifactory.com carries a large catalog of Muay Thai Shorts, gloves, shin guards, handwraps, etc. They ship using DHL air, and packages from Thailand often arrive in under a week. The prices are extremely low, but shipping is quite high,  however, if ordering a complete kit or putting together a large order with a group of friends, the shipping cost per unit goes down considerably.
Infightstyle.com has arguably the most stylish short/equipment designs; they ship from the US. The pricing is premium but their gear is incredibly sharp looking!
Travel to Thailand:
Of course, you could just plan a trip to Thailand… 🙂  Arrive with an empty suitcase, come back with an entire kit of equipment.
Did we miss any places in Toronto get your Muay Thai gear? If so, comment below!
Lotus Fitness and Thai Boxing is located at 17 Atlantic Avenue, in the Liberty Village neighbourhood of Downtown Toronto. We deliver an Intense Workout, with Authentic Muay Thai Instructors, in a Welcoming Environment.